---
Bruce Murray || T.J. Shanoff || Elizabeth Hess || Producer Rob || Crew
---
All About Producer Rob Wuczynski...
Rob Wuczynski is the man behind the man (Bruce Murray)! Who do you think keeps this three-ring circus you know as Murray in the Morning operational? That's right... Producer Rob.
Let's be honest, if Producer Rob was not around to keep Bruce, T.J. and Elizabeth in order, there is a strong possibility Program Director Matt Nahigian's head would explode. And guy, that would not be good.
Rob's Victory in "A-Murray-can Idol"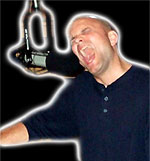 One of Producer Rob's many talents (other than his stunningly positive attitude toward all people) in singing. To be fair, he's not the next Frank Sinatra. Nor would he claim to be.
But when he need to flex the pipes, he's more than capable. He was good enough to win MitM's "A-Murray-can Idol" contest with pure skill and overcome the heavy PR blitz from crowd-favorite, Elizabeth Hess.