---
This Month's Archives || This Month's Headlines || Previous Archives || Search for a Guest
---
Posted on Oct. 31, 2003
Practicing Zombie Safety

Keep it handy

Author Max Brooks, the son of Mel Brooks and Anne Bancroft, talks with MitM about his new book, "The Zombie Survival Guide." Believe it or not, Max says zombies do inhabit this earth - and he swears he's not under the influence of any drugs. In the book, he explains how to defend against this monster, saying a machete is the perfect weapon.

Author and zombie-slayer Max Brooks

Zombie Survival Guide... get it!
Posted on Oct. 31, 2003
Psychic Readings for MitM

The Crysal Ball says...

Internationally-renowned psychic Victoria Bullis, who has performed several exorcisms in her lifetime, joins MitM to share her connection to the spirit world. But she makes it perfectly clear: "She doesn't mess with demons." Victoria also discloses that there is an "orb" outside the men's restroom at the Sporting News Radio. Whoa!

A psychic sets MitM straight

Victoria Bullis' website
Posted on Oct. 31, 2003
Name That Tune: Halloween Edition
The wild and wacky MitM crew brings back an old favorite in honor of Halloween. That's right, it's time to play Name That Tune as T.J. conjurs up several spooky and eery songs, and random callers try to guess those songs for wonderful Murray in the Morning prizes.

Can you name that tune???
Posted on Oct. 30, 2003
Survivor Host Puts on Director's Cap


Jeff Probst

Survivor host Jeff Probst talks to MitM about writing and directing the new movie Finder's Fee -- about a guy who finds a wallet with a winning lottery ticket inside. Jeff also talks about some various medical issues that have reared their head on Survivor, including his own brushes with a jellyfish, a scorpion and an electric fence.

Jeff joins the MitM crew

Finder's Fee

Survivor 7: Pearl Islands
Posted on Oct. 30, 2003
She's Dunn but Rupert Isn't

Trish Dunn

Trish Dunn, the sixth survivor voted out of Survivor 7: Pearl Islands, tells MitM what the hell she was thinking when she tried to manufacture an alliance against Rupert. Of course, her plan backfired... and that's why she's talking to us. However, Trish drops a few clues about the remaining survivors, and hints at her own return to the show.

Trish does some explaining with MitM

Survivor 7: Pearl Islands
Posted on Oct. 30, 2003
Being a Mets Fan Isn't Funny

Elayne Boosler

Comedian Elayne Boosler joins MitM to promote her upcoming stand-up comedy shows in Chicago. As a Mets fan, she's not afraid to tell Cubs jokes... so watch out. Elayne also gives the crew the straight story on her relationship with the late, great Andy Kaufman, and encourages people to check out her website dedicated to helping animals!

Elayne chats with MitM

Elayne's website

Tails of Joy
Posted on Oct. 29, 2003
Bonnie-Jill and Bling-Bling!

Bonnie-Jill Laflin

Former NBA and NFL cheerleader Bonnie-Jill Laflin talks to MitM to about appearing in the new video game NBA Ballers -- a game that takes a sarcastic look at the glitzy lives of NBA superstars. Bonnie-Jill also updates the crew on other stuff she's been up to, including a new show on Spike TV called Hotlines.

Bonnie-Jill chats with MitM

Bonnie-Jill's website (Don't miss it!)
Posted on Oct. 29, 2003
Are You Game For Bar Olympics?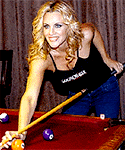 Take a cue from Jenny

Actress Jenny McCarthy can hold her own amongst rowdy men. That's why she's the perfect captain for a team of attractive -- yet cutthroat -- women who will challenge guys in the "Goldschlager Bar Olympics." Jenny explains how one lucky guy could win a trip to the National Bar Olympic Finals in Las Vegas, a chance to win $25,000, and a chance to meet Jenny herself! In the meantime, catch the Chicago-native in Scary Movie 3.

Jenny joins the MitM crew
Posted on Oct. 28, 2003
Regular Guy Becomes Ironman

Steve Katai

One day, Steve Katai spotted a newspaper article about the "Degree Everyman Ironman Contest." After submitting a bunch of photos and a poem (which he recites for MitM), Katai won a $100,000 prize package (including salary reimbursement, an apartment north of San Diego, an SUV and a VIP trip to Kona, Hawaii) designed to train him for an upcoming triathlon in Florida.

Steve talks triathalons with MitM

Degree Everyman Ironman
Posted on Oct. 28, 2003
Good Morning, Constance

Constance Zimmer

Actress Constance Zimmer, who plays the lazy, burned-out assistant on Good Morning, Miami, joins MitM to discuss her role on the "wacky" comedy. Both Constance and Bruce agree that workplace comedies set in newsrooms tend to be incestuous... because that's what they're like in the real world.

Constance chats with MitM

NBC's Good Morning, Miami
Posted on Oct. 28, 2003
Sports Lounge: Oct. 28
It's a well-documented fact that T-Puff thinks the NBA is "Fan-tastic!" So, here is a special NBA season-opener edition of the Sports Lounge just for you. Inside, you'll hear hits like the Celtics' "Ivory and Ivory," the Lakers' "Imagine There's No Kobe," and a special medley chronicling all 700 NBA trades and offseason moves.
Listen
Posted on Oct. 28, 2003
SPUDS: Oct. 28
The good news: More teammate SPUDS! The bad news: Your teammates are the Murray in the Morning crew. Good luck.
Listen
Posted on Oct. 27, 2003
Women of Starbucks Get Naked


Elizabeth Paradise

Elizabeth Paradise, one of Playboy's Women of Starbucks, tells MitM she "couldn't wait to get naked" for her video photo shoot. She also tells MitM why she still works at Starbucks and how her new affiliation with Playboy has changed her life. Unfortunately for every single guy on the planet, she has a fiancé whom she's dated for five years.

Elizabeth bares all with MitM

Playboy.com
Posted on Oct. 24, 2003
Cuba Nails His Role in Radio


Cuba Gooding Jr.

Actor Cuba Gooding Jr. joins MitM to talk about the extensive physical and mental preparation he underwent for his leading role in the new movie Radio. (Which is nearly as tough as waking up to do interviews early in the morning.) Cuba also jokes with the crew about his athletic prowess and his love of boxing.

Cuba joins the MitM crew

Radio official website
Posted on Oct. 24, 2003
Divini Inspiration for MitM

Divini Rae

Divini Rae, Playboy's Miss November, tells MitM that many people from her small hometown in Alaska were shocked by her beautiful pictorial in Playboy. We're shocked she wasn't in the magazine sooner! The gorgeous Divini talks to the crew about her childhood, her intellectual pursuits and the origin of her unusual name. Also, Divini explains why she hates reality TV.

Divini inspires the MitM crew

Divini's website

Playboy.com
Posted on Oct. 23, 2003
Radio Inspired By a True Story


A feel-good movie

Mike Tollin, director and producer of the new movie Radio, joins MitM to talk about the "feel-good" movie of the season. Tollin explains how the film stays true to the reality of the story, while exercising enough restraint to avoid making the movie too sappy. Also, Tollin attests to the powerful performance of Cuba Gooding, Jr.

Tollin joins the MitM crew

Official Radio movie website
Posted on Oct. 23, 2003
Michelle Was Out of The Loop

Michelle Tesauro

Michelle Tesauro, the fifth survivor voted out of Survivor 7: Pearl Islands, tells MitM that contrary to popular belief -- she wasn't voted out because she drank some mixture of sea sludge too quickly. She was voted out because her main ally, Burton, was voted out the week before. Michelle goes on to call the rest of her tribemates "dumb."

Michelle chats with the MitM crew

Survivor 7: Pearl Islands
Posted on Oct. 23, 2003
Guide to Beating Speeding Tickets

Don't get caught

Richard Wallace is a retired police officer who has information that you have a right to know... such as how to beat and avoid speeding tickets! Lucky for you, Richard shares some of this information with MitM, and a promotes his new book which contains a lot more. The book is called "An Educated Guide to Speeding Tickets -- How to Beat and Avoid Them."

Richard chats with MitM

Order books here!
or call 1-888-FIGHTEM!
(Mention MitM and get 2-for-1)
Posted on Oct. 22, 2003
Better Sex Through Yoga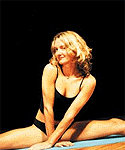 Jacquie Noelle

Want to boost your sexual energy? Well, yoga instructor Jacquie Noelle tells MitM to check out the 3-part video series, "Better Sex Through Yoga." She divulges how flexibility achieved through yoga can improve your love life. Or, if you're like Bruce, you can just watch the tapes and get turned on from the girls in skimpy outfits.

Jacquie is just a hot-sounding name

Better Sex Through Yoga
Posted on Oct. 22, 2003
Make an Effort to Make Love

Nicole Beland

Nicole Beland, the Men's Health "Girl Next Door," returns to MitM and, as usual, fills in the crew on her life. Then, she discussses her recent column about couples who just don't have sex anymore, and discusses how to get out of the "getting none" trap. Nicole laughs at the idea that women need to be virgins on their wedding night.

Nicole chats with MitM

Men's Health magazine
Posted on Oct. 21, 2003
Back for More Law and Order


Richard Belzer

Actor Richard Belzer, who plays Det. John Munch on NBC's Law & Order: Special Victims Unit, jokes with MitM about playing the same character on every NBC series ever created! To clarify... "Regular" Law & Order is about homicide-type crimes. "Special Victims Unit" is about sex crimes, and "Criminal intent" is from the perspective of the criminal.

Belzer talks to MitM about his career

NBC's Law & Order: Special Victims Unit
Posted on Oct. 21, 2003
Dick Vitale is 'Living the Dream'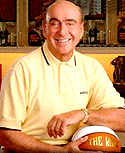 Dick Vitale

Without question, ESPN college hoops analyst Dick Vitale is one of the most enthusiastic broadcasters in the business. (Hey... wouldn't you be too if you were Dick Vitale???) Vitale joins the MitM crew to talk about his new book, titled "Dick Vitale's Living a Dream: Reflections of 25 Years in the Best Seat in the House."

Dickie V joins the MitM crew

Get a personalized book from Vitale!
Posted on Oct. 21, 2003
SPUDS: Oct. 21
In a brilliant twist to the world's greatest morning show game, the MitM crew has changed the rules of SPUDS. Instead of throwing the contestant to the wind and letting them choose their fate... the crew will ALSO be thrown to the wind along with the contestant! And everybody will be shocked at people's stupidity.
Listen
Posted on Oct. 20, 2003
Straight Dope on Drug Legends

Cocaine in Coke?

In the November issue of Playboy, editor Steven Russell analyzes some of the most time-honored drug myths from the world of music, movies and history. Did Coca-Cola really contain cocaine? Did Keith Richards really get a complete blood transfusion? And did Pink Floyd really compose Dark Side of the Moon to The Wizard of Oz?

Steven gives MitM the truth

Playboy.com
Posted on Oct. 20, 2003
Sports Lounge: Oct. 20
T-Puff is well on his way to revitalizing the Sports Lounge with another week of pure gold hits, including... "When the Saints go Marching over Kurt Kittner," "The Notre Dame (lack of) fight song," and "Tanyette's favorite teams." OH... and don't miss the smash hit "When you get get caught between Alou and the World Series."
Listen
Posted on Oct. 17, 2003
Youth is Served in NASCAR

Brian Vickers

Next year, NASCAR driver Brian Vickers will become the youngest full-time driver on the Nextel Cup circuit. The MitM crew jokes with the 19-year-old driver about competing in the Busch series races, but not being old enough to drink the beer. Brian says the older guys in the sport give him some crap, but age is nothing but a number on the track.

Brian chats with the MitM crew

Brian Vickers' website

NASCAR.com
Posted on Oct. 15, 2003
The Seven Deadly Pains


Don't ignore these!

Men's Health contributing editor Gregg Stebben chats with MitM about his recent article, titled "Seven Pains You Must Never Ignore." Stebben goes through all seven of these common aches to explain why some of these pains are life-or-death matters. He also chats with the crew about a car he recently purchased on eBay.

Stebben says "pain is no gain"

Men's Health magazine
Posted on Oct. 15, 2003
From Taco Bell to Comedy Central

Carlos Alazraqui

Actor Carlos Alazraqui, who voiced the infamous Taco Bell Chihuahua, talks with MitM about his new role as racist deputy James Garcia on Comedy Central's Reno 911. How exactly did make that jump and what has influenced his career? Carlos conducts the interview while playing a round of golf (he bogeyed a hole while chatting with the crew).

Carlos bogeys one with MitM

Comedy Central website
Posted on Oct. 15, 2003
Burton's Plan Backfires


Burton Roberts

Burton Roberts, the fourth survivor voted out of Survivor 7: Pearl Islands, joins MitM to discuss his early exit. Burton explains his rationale behind "throwing" the immunity challenge in an attempt to gain "control" of the game. Not such a good idea. Burton says Christa was the primary target of his plan... because she was annoying.

Burton chats with the MitM crew

Survivor 7: Pearl Islands
Posted on Oct. 13, 2003
Miss October Joins MitM in Studio!

Audra in person

Forget the tricks... It's simply a treat when Audra Lynn -- Playboy's Miss October -- joins the MitM crew in studio! Audra wows the crew with her stunning looks and some great stories about growing up in a VERY small town in southern Minnesota. Everyone agrees that former Bachelor star Aaron Buerge is a moron for cheating on her. What a dope!

Listen to Audra join the crew in person

Audra's website

Playboy.com
Photo Gallery: Photos of Audra in studio!
Posted on Oct. 13, 2003
Sports Lounge: Oct. 13
This week in the Sports Lounge, T-Puff looks to tone down all the violence in sports with a folksy ditty and an old-fashioned ho-down about Week 6 in the NFL. Then, he finishes up with a latin arrangement about the Cubs-Marlins NLCS and the Don Zimmer vs. Pedro Martinez undercard in the ALCS.
Listen
Posted on Oct. 09, 2003
Your Toilet Seat Does What?

The Washlet

To paraphrase Lenora Campos, the PR manager for Toto USA, Inc. (the manufacturer of the new Washlet toilet seat): "We have embedded the washing function of a bidet into a toilet seat -- which can be retro-fitted on any existing toilet -- to deliver a warm-water washing to the 'undercarriage' of the individual." Call for (800) 264-8083 for more info about this technological wonder.

Lenora talks about the Washlet

Get your Washlet today!
Posted on Oct. 08, 2003
You'd Rather Hang Out With the Hottie

Lillian Morris

Lillian Morris, the third survivor voted out of Survivor 7: Pearl Islands, tells MitM she lacked the sex appeal to save her hide in last week's tribal council. Also, Lillian tells the crew she's irritated that Jeff Probst had to rub in the fact that the Morgan tribe was possibly the most dismal tribe in Survivor history.... because she already knew that!

Lillian chats with the MitM crew

Survivor 7: Pearl Islands
Posted on Oct. 08, 2003
Jets Looking Good Off the Field


Lia and Herman

Herman Edwards' Jets are off to a slow start, but that isn't slowing down Herman's wife, Lia Edwards, who is organizing the 4th Annual Jets Women's Organization Fashion Show & Dinner. Several Jets players, their wives and children will be donning the latest fashions of Giorgio Armani, Ralph Lauren, Donna Karen and more to raise money for charity.

Lia Edwards chats with MitM
Posted on Oct. 08, 2003
This Beer Man is The Best


Steve Lazarus

This week's Guess My Gig mystery guest is Steve Lazarus, a stand-up comic and New York Yankees beer man! Steve tells the crew about the life of a beer man. Some days he says it's like being a big-breasted woman... straps are digging into his shoulders, his back is killing him and all the guys are starting at his cups.

Beer man Lazarus chats with MitM

"Stand-Up U" for aspiring comics
Posted on Oct. 08, 2003
Documenting Iraqi Freedom

Chip Reid

NBC reporter Chip Reid gives MitM a look at Gulf War II from a journalist's perspective in his brand new book, "Operation Iraqi Freedom: 22 Historic Days in Words and Pictures.". Reid discusses the experience of being stationed in Iraq during the way, the death of colleague David Bloom and the inability to take a bath for five weeks. Yikes!

Reid talks to MitM

NBC website
Posted on Oct. 08, 2003
Married to Mommy


Married to Mommy

Authors Jeff Bakeman and Brian Krinbring speak with MitM about their book, "Married to Mommy: A Survival Guide for Married Guys," which documents how women transform from sexy girlfriends into controlling moms. They say if you're married to such a female, don't try to win … just try to break even.

Jeff and Brian joins MitM

www.marriedtomommy.com
Posted on Oct. 07, 2003
'One Time... at Fantasy Rock Camp'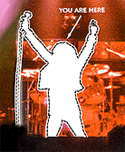 Be the Rockstar!

Everybody has attended a camp in their lifetime. So what makes Fantasy Rock Camp any different? Playboy editor David Peisner joins MitM to answer that question. For starters, anyone can go to the camp, but the price tag is steep ($6,000). David also thought it was cool when Roger Daltrey was his camp counselor. (But the lack of hot groupies wasn't.)

Playboy's Peisner joins MitM

Playboy.com
Posted on Oct. 07, 2003
Sports Lounge: Oct. 7
In case you haven't heard, the Sports Lounge is attempting to make a Michael Jordan-esque comeback. Roughly one year after Landlord Murray condemned the lounge, T-Puff is back on the keyboard with a couple snazzy tunes about Emmitt Smith, the Bears and Rush Limbaugh. Oh... and the Cubbies, too.
Listen
Posted on Oct. 07, 2003
One Big Happy Family


Jeff Davis

Comedian Jeff Davis joins MitM to talk about his role on NBC's new show Happy Family. His character, Todd Brennan, is the son of Peter Brennan, who is played by the one and only John Larroquette. Jeff also talks about the art of improv on TV and his frequent guest appearances on the hit show, Whose Line Is It Anyway?

Jeff chats with the MitM crew

NBC's Happy Family
Posted on Oct. 07, 2003
Playboy Looking for Sex at Sam's Place

Sex at Sam's

Playboy.com editor John Thomas joins Murray in the Morning to talk about Playboy's search for the "Women of Walmart." John explains how and why Playboy.com came up with the idea to find the most beautiful employees of a store that isn't widely known for it's sexy employees... but you might be surprised!

John Thomas joins the MitM crew

Looking for the "Women of Walmart"
Posted on Oct. 03, 2003
Oh No... Kenny's Cracking Up Again!

Kenny Wallace

NASCAR driver Kenny Wallace joins MitM and has a blast! Nobody on the circuit has a better sense of humor than Kenny. He talks about how he got his nickname, how he deals with his third-child syndrome (behind his racing brothers Rusty and Mike), and if he lets his wife drive the family vehicle! Finally, Kenny promotes the Stacker2 energy drink.

Kenny laughs with the MitM crew

Kenny's website

Stacker2 Energy drink
Posted on Oct. 02, 2003
'Skinny' on Morgan: 'Complete Chaos'


Ryan Shoulders

Ryan Shoulders, the second survivor voted out of Survivor 7: Pearl Islands, talks to MitM about his tribe's miserable start. So far, the Morgan tribe has been the Arizona Cardinals, Cincinnati Reds and LA Clippers of the Pearl Islands... all rolled into one. Ryan talks about his nickname, Andrew's lack of leadership, and Osten's desire to quit.

Ryan chats with the MitM crew

Survivor 7: Pearl Islands
Posted on Oct. 02, 2003
Shaving with Carmen Electra in Studio!


Carmen in studio

The beautiful Carmen Electra visits MitM in studio to give Bruce Murray a shave! Ok, actually, Carmen just chats with the crew while her assistant Lilian took care of Murray's facial follicles with a Gillette Mach 3 razor. In the meantime, Carmen talks to the crew about her career, her engagement to Jane's Addiction guitarist Dave Navarro, and why shaving your partner is very sexy.

Sexy Carmen joins the MitM crew

Gillette.com
Photo Gallery: Pics of Carmen and Bruce
Posted on Oct. 01, 2003
Jake Steinfeld: Intern For a Day


Jake Steinfeld

Major League Lacrosse owner and MitM regular Jake Steinfeld visits the crew in studio to pay off his end of "the bet." Among his duties are the usual cleaning chores, plus a massage for Tanyette - which was quite distracting while she was reading the news - and the "Jolly Green Giant Fitness Quiz."

Intern Jake joins MitM

Major League Lacrosse website
Photo Gallery: Jake's day as the MitM intern